Luxury housing is always in demand: Read on to find out the reasons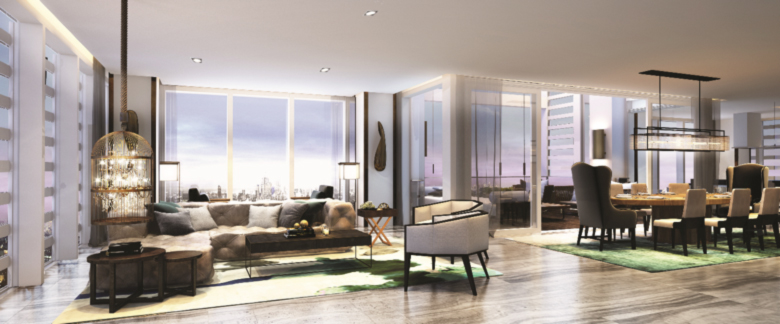 Demand for affordable housing may wane, but never for Luxury housing
The demand for premium and luxury homes in India has witnessed unprecedented growth in recent years thanks to the booming economy of the past decade, the increasing number of high net-worth individuals (HNIs) it created and the non-resident Indians (NRIs) who seek to invest in the country. These are people who have traveled the world and demand nothing but the very best. Recognizing this demand, many real estate developers have started building world-class penthouses, apartments, condos, villas, and bungalows offering luxury as well as ultra-luxury lifestyles.
With the growing economy, disposable incomes have increased phenomenally. According to a recent report, the number of ultra-HNIs is expected to reach 4.83 lakh by 2025. By 2020, India's realty market would account for 13% of the GDP, and with luxury housing at about 4-5% of the total real estate market, its share in the overall pie will also go up1.
There are various factors that are driving this growth.
1. The rising standard of living:
Professionals working in multi-national companies (MNCs) and drawing huge salaries have been attracted to these fancy homes that symbolize their status and wealth. Another category of individuals are the NRIs who intend to return to the country someday. Both categories opt for gated complexes that have themed, landscaped gardens at the entry and clubhouses, as well as meditation, entertainment and shopping centers spread across. These complexes also offer multiple parking, 24-hour security and gymnasiums.
These luxury home designs are architectural marvels which have aesthetically designed interiors that define their identity. Inside each home, developers offer state-of-the-art facilities such as personal swimming pools, stylish living rooms with LED televisions, sophisticated gadgets, sleek and fully equipped kitchens, electronic security, fast elevators and WI-Fi, epitomizing luxury living. Some developers have also collaborated with well-known domestic and international interior designers to provide custom decor.
A case in point is Nitesh Melbourne Park, premium condominium, located in one of Bangalore's most sought-after destinations – North Bangalore. Spectacular living spaces designed with modern and global standards of living, Nitesh Melbourne Park is for those who seek nothing but the best in a true international style project.
2. Creating townships:
To set themselves apart, some developers are increasingly focusing on townships with sports complexes (golf, cricket) while others use landscape themes (forests, mountains) or architectural styles (Spanish, French).
Luxury villas in distant, serene townships that are far from the hustle and bustle of the city offer large, open spaces, beautiful views, and luxurious amenities. Having high boundaries, they help create a self-sustained private community with all the recreation such as a clubhouse, swimming pool, and amphitheater.
Another concept that is fast becoming popular is that of destination homes and holiday homes in locations such as Shimla, Kasauli, and Goa. Customers buy these properties as getaways for extended weekends or vacations with family/friends.
For the super-busy executive or the executive always on the move, many developers offer fully furnished serviced apartments which symbolize luxury living with all vital amenities that mirror a comfortable home stay.
In a few short years, Bangalore will applaud the opening of Nitesh Park Avenue – luxurious private residences which will be a new iconic landmark in the town. This township will usher in a new paradigm-enviable lifestyle of the privileged and pampering that can only be from the Nitesh Land brand.
3. Taking security to the next level:
An important feature of luxury homes is top-of-the-line security. Apart from limiting the number of entries to the complex, trained security personnel as well as security installations are critical. Surveillance cameras are installed at entrances, exits, common areas, and any point in the building that could pose a risk. The camera feed is regularly monitored as well as reviewed to check any suspicious activity and prevent a major incident.
While some luxury homes have come up near hospitals, others have medical emergency rooms to provide immediate assistance in case of an accident or illness. They are also technology-enabled to provide an immediate response.
Smart homes: The future of luxury housing
While most luxury homes of today offer the best in terms of comfort and elegance, some also offer 'smart' solutions in terms of being eco-friendly and tech-enabled. These homes of the future have solar generators, rainwater harvesting and waste segregation as well as smart toilets.
With the demand for 'smart homes' on the rise, it will soon be mandatory for all luxury homes to tick all boxes that define a smart home. Using new technology tools such as Internet of Things, luxury home buyers will get improved lifestyle quotients… remote controlled electrical fittings window shutters and switchboards as well as home theatres, to name a few.
Among India's first development companies to recognize and embrace the importance of going green is Nitesh Land. They brought 'Green Architecture' that works in harmony with natural features and resources to maximize efficiency. This is evident in the designs of their homes, the unique blend of technology and eco-friendly measures that are easy on the environment without compromising on comfort. A few of their projects have been awarded the Gold pre-certification from Indian Green Building Council (IGBC) Green Homes Rating. Nitesh Land is committed to creating a significant impact on the environment footprint.