Innovative kitchen ideas for your new home
Innovative kitchen ideas for your new home
Posted on Aug 22, 2018 at 04:20 PM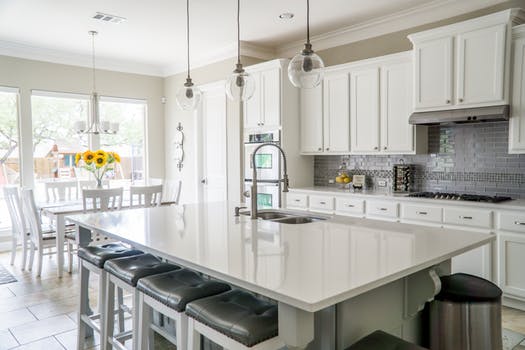 Building a new kitchen or revamping an old one can be a challenging yet rewarding task. There are numerous innovative kitchen ideas that can help add a personal, more expressive touch to this much used part of the home. With numerous styles and trend to choose from it can often get overwhelming leaving you with no clue on how to begin. So let's start at the beginning.
● The reason to pay attention to the way your kitchen is decorated
Decorating your kitchen is not just about making it look good. It is also about making it more functional and organized so that you can save time when cooking. Moreover, a well organized kitchen can do wonders to the overall environment indoors. It is important to also keep in mind that every homeowner would have a different personality and different needs. So, picking up a kitchen decor project should have all of this in consideration.
● The basics of kitchen decor
Before you try to understand the major kitchen trends of the current season, you must be clear about a few basic points. This involves where you get inspiration from and what your focus should be when picking a particular design idea.
1. Finding inspiration

Minimalist ideas as well as elements from nature or even poetry and art can all be sources of inspiration for innovative kitchen ideas. You don't have to be an interior design professional to be able to pick the right decor inspirations. Just look for what works best for you and what you would enjoy working on.

2. Picking the material

You must be thoughtful while choosing any material for your kitchen decor project. The climate of the city, the location of your home, the functionality aspect and other important details are directly related to how well your finished project would turn out to be.

3. Maintaining contrast

The best way to implement innovative kitchen ideas is by exploring all the possible elements that can break the monotony by striking a good contrast in terms of color, texture, view and so on.

4. Creating a vision and planning for practical situations

When experimenting with creative kitchen ideas, it is important to consider all the major problems that you may face or all the things that would affect how well and comfortable your kitchen is. A piece of decor may look great in a picture but you have to ask yourself if the same would work well in your kitchen. If not, it is better to look for more interesting and functional alternatives that wouldn't make you feel like you wasted your money, time or energy.
● The best kitchen decor trends that can help you improve your kitchen
Trends constantly change. Whether it is in fashion or homes, the ideas are never the same in consecutive years. Once you have your decor inspiration and you are confident about how you would want your kitchen to be, you can try to implement the following ideas.
1. Banquette seating

Inspired by the 80s trend, this kitchen style is all the rage right now. The convenience allowed by this setting is what has added to its popularity in recent times. Imagine a sunny little alcove for having breakfast every morning! It is certainly the embodiment of simple luxury and practicality at the same time.

2. The importance of focal points

Who said focal points and statement pieces are only limited to bedrooms, the lobby or the gallery? Why not create a fascinating focal wall or ceiling decor that accentuates the look and feel of your kitchen too? Focal points jump at you and are different from the rest of the kitchen. So make sure that it is something positive and inspiring that would make you happy when you look at it.

3. Chalkboard paint

This is a trend that is both rustic and extremely useful. Dedicate a section of the kitchen- a wall or a board- that is blocked with chalkboard paint. You can personalize it, customize it as per an event or celebration or simply use it for making grocery lists and tracking your food inventory.

4. Open shelving

Contrary to closed kitchen cabinets, stylish open shelving have become extremely fashionable in the recent times. You can opt for floating shelves that are available in endless styles . These can be used for displaying your crockery and glass jars for easy accessibility and decor at the same time.

5. Marble accents

Marble never goes out of trend. However, the way you use it does make a lot of difference. It is time to move past the conventional marble floors and slabs. Instead, you can go the quirky way by opting for marble printed wallpapers. These look extremely real and can elevate the ambience of your kitchen instantly. In fact, you could also use these wallpapers to divide the walls into sections. It works like color blocking, adding a wonderful appeal to the simplest of walls.

6. Statement floors

You can experiment with so many trendy floor tiles and kitchen-appropriate flooring options that your kitchen decor can rise a notch higher very easily. Choosing interesting patterns to decorate the floor is a great way to boost the look and feel of the space. You can either do this to match the walls and rest of the decor elements or you could also choose to create that focal point on the floor instead of the wall or the ceiling.
Homes made by Nitesh Land are modern and functional. The ample space and fine finishes leave room for plenty of experiments and detailing that you may want to play around with. You can keep experimenting with various aspects like color and texture to create a kitchen that reflects your unique sense of style.