Creative interior design ideas for your kid's room
Creative interior design ideas for your kids' room
Posted on Aug 2, 2018 at 05:40 PM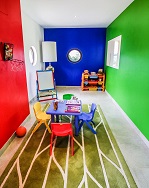 Decorating kids' rooms can be so much fun. Considering the fact that there are barely any restrictions with all that you can do, the creative leeway you have here is almost unlimited. There are practically endless possibilities to explore. For many, it is the walls that first grab attention. So, it is natural to look for interior design ideas that transform the walls into vibrant, colorful and unique pieces of art. In fact, you can actually kick-start the revamp project with the walls and the ceiling. Of course, you can adapt all the kids room decor ideas as per the taste and preference of your individual children. Let's take a look.
1. The walls
Unique paint combinations to patterned wallpapers and embellishment, there is an array of experiments that you can try on the walls of kids' rooms.
1. Bold drawings

Go for a simple scene from your kids' favorite comic book or cartoon and get it painted on one of the walls. The rest of the room can be color-coordinated according to this. You can also go for distinctive shapes, educational phrases or collage animals in order to enhance the overall appeal of the said wall.

2. Wall stickers

3D or silhouette, wall stickers are quite the trend for the current seasons. These are fun, attractive and are available in so many varieties of shapes and designs that you will never run out of options. You can also take the opinion of your kids when choosing these stickers.

3. Chalkboard wall

Kids, when growing up, enjoy scribbling on vertical flat surfaces. Instead of scolding them for spoiling the walls, you can simply redirect their creative energy on to a chalkboard wall. The black would add a quirky vibe to their room and at the same time, encourage them to have fun with their natural instincts. They can scribble whatever they want and it can be erased in a matter of minutes. That way, the room remains new and fresh, the rest of the walls remain clean and safe. It's a win-win.

4. Decoration

Mirrors, picture frames and art work created by your child can be used to enhance the look of the wall and to fill in empty spaces. Do this tactfully to balance out the focal wall with the other parts of the room.
2. Organizing ideas
It is important to opt for child-friendly furniture in the kids' room. This helps them stay safe and enjoy their time in the room. Also, the organization hacks that you implement should be inspired by practical design ideas for children's rooms.
1. Create a grid for toys

Dedicate a space that has a rack for hanging all the toys in any way they want. This eliminates the clutter on the floor because kids find it engaging and easier to hang their toys on a grid creatively rather than stacking them in a particular set on shelves or in drawers.

2. Pick up quirky furniture pieces

Make sure that you keep minimalism in mind when picking furniture for kids' rooms. Less is always better and leaves room for more creativity and calm. Having said that you could pick up quirky, unique furniture that will add some fun to their rooms. You can also look for multi-purpose furniture that saves space.

3. Monograms and custom headboards

Kids' rooms can be made to express their individuality. Using their favorite superhero monograms or specific logos that they are fond of can be a subtle way of doing this. You can also play around with the kind of headboards used and make their bedtime all the more special. .
3. Experimental themes and accents
Themes and accents can bring a lot of fun and excitement to your kids rooms and can help bring the whole look together. Whether you prefer monochrome or a dash of wood in your children's room decor, make sure that the kids like it too. Here are a few ideas that you can play around with.
1. Pastels

Pastel shades, when done right, can add a whole new vibe to the rooms. You just have to be experimental enough to try multiple options after consulting your growing little one.

2. Prints

Florals, blocks, stripes and an array of other prints can improve the look of a room and breathe life into it. You can either incorporate these prints in the wallpapers that you choose or pick drapes and sheets with them. The idea is to maintain the right balance even in the kids' rooms.

3. Mixed metals

For a more sophisticated interior design ideas for kids' rooms, metals can be used in clever ways. Furnishings, fixtures and even the use of metallic paint can help revamp the overall appeal of the room in more ways than one. Another idea is to go for creative metal door knobs and bolts to add a dash of sheen.

4. Textures

Another fabulous way to break the monotony in any kid's room is to incorporate the right amount of textured details. This could be in the form of woven textiles or tactile wall details, textured fabrics, art and elaborate pieces of decoration that serve as focal points in the bath or at the entrance and windows.
There are multiple themes and combinations that you can try when setting up your kids' rooms. Make sure that you keep in mind the feasibility, functionality and budget while finalizing any of the decor elements. Kids grow fast and their preferences too keep changing frequently, therefore you need to consider all of this when implementing creative interior design ideas in their rooms.