BRINGING LUXURY TO COMMERCIAL PROPERTIES: NOTEWORTHY TRENDS IN INDIAN COMMERCIAL REAL ESTATE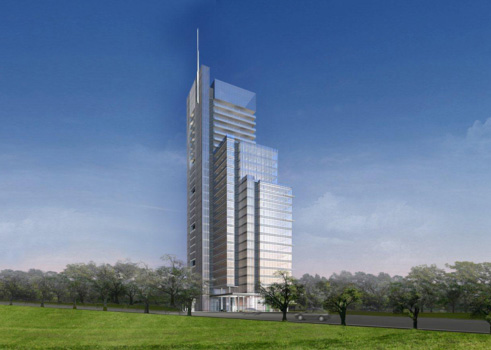 BRINGING LUXURY TO COMMERCIAL PROPERTIES: NOTEWORTHY TRENDS IN INDIAN COMMERCIAL REAL ESTATE
Growth in the economy, fall in interest rates, regulatory reforms, evolving office infrastructure as well as technological advancement, have ease investment opportunities and given a boost to commercial real estate. While the residential sector still grapples with unsold inventory, commercial properties are surging ahead owing to the growth in the IT/ITES sector in Tier I cities and MNCs shifting their focus to Tier II cities.
Companies today have realized the fact that their workspace not only is representative of their brand, but can have a direct impact on boosting the morale of their employees. Well designed work spaces that do more than catering to just the basic needs lead to employees that are more comfortable in their office. They are happier to come to work every day, and they are more productive, organized, and efficient in the time they spend at work. Wanting to leverage the same, companies today are planning well in advance for the kind of workspace they want, as opposed to booking whatever is cheaper and easily available.
A strong inclination for comfort and convenience as opposed to the bare minimum necessity of four walls under a roof, coupled with an increased disposable income, is dictating the decision-making process of the millennials. As a result, they are choosing to invest in the luxury real estate for a number of reasons; here are the top five features that encourage people to buy luxury properties.
MNCs, wanting to converge their multiple office locations into one large commercial building, are pre-booking their office spaces years in advance. They are spending time on the interiors and overall feel of the place, working to bring it up to speed with what would get the employees excited. They are also going for longer lease times, averaging 12 to 15 years instead of the 5 to 9 years that were previously preferred.
With commercial real estate likely to continue booming, many real estate developers are creating smart and Eco-friendly class 'A' commercial buildings. These commercial buildings are well located, have great aesthetics, good construction quality, great internal infrastructure, and are managed by professional management teams.
A few trends that are transforming the commercial real estate market in India are:
1. IoT enabled buildings:
The large-scale adoption of latest technological innovations such as artificial intelligence, machine learning, and more, has given way to the integration of Internet of Things (IoT) into people's everyday lives. As such, automation has crept into various aspects of buildings as well. Things like smart lighting enabled by phones, linking of geysers, air conditioners, and home appliances to smart devices, are fast gaining traction in the commercial real estate.
This change is further being encouraged by increased exposure, as IoT products are being mass produced, improving accessibility, comfort, and affordability. It is also factoring into the overall theme of smart cities, envisioned keeping in mind the need to create futuristic cities with next-generation architecture that can be digitally connected.
2. Eco-friendly commercial buildings:
The cost to nature has been an issue of prime concern around the world. With rising pollution levels and increased awareness, the need to have workplaces that produce less carbon footprint and are as self-sustainable as possible has come to the forefront. Large tech companies around the world are leveraging the smartest commercial developers to create self-sustainable buildings. These buildings use less electricity, are easier to ventilate and cool, and bring in sunlight into the office. They also have smarter waste disposal systems, parking space, and layouts.
3. Infrastructure that is high on comfort and closer to nature:
Developers of commercial buildings today pride themselves on creating spaces that are not only high on comfort but are closer to nature. Employees today spend a major part of their waking hours at works, which presents real estate developers with the unique challenge of making office spaces that are as comfortable as homes but also technologically advanced to meet the operational needs of the business.
As opposed to closed and compact spaces of the past, the norm today is to develop spaces that are more open and comfort-oriented. Office buildings in Bangalore, for example, are incorporating green terraces and small gardens within the workspace. Cabins are being done away with to have desk-based working space, with individuals basically working closer to each other. Boardrooms and meetings rooms are being turned into more dynamic spaces, with integrated smart devices.
The idea is to build spaces that allow greater free movement than the conventional cubicle-based structure. Using loungers, bean bags, floor mats or even swings and hammocks to replace typical workstations is a trend most places are following. Some places are going to the point of including sliding poles and fun physical activities to encourage employees to get some exercise while still at the office.
4. Hybrid Spaces:
Unlike a few years ago when separate areas were designated for residential, commercial and industrial operations, developers are increasingly creating hybrid spaces by converging these with other major amenities. Not only does this structure promote higher productivity, by reducing fatigue and travel time, it also aims to reduce the pressure on the overburdened transport infrastructure of Tier I cities. As families live closer to their workplaces, new social relationships get created, which provide comfort without infringing on the privacy of individuals and families alike.
5. Starchitecture:
Going beyond traditionally designed and similar looking rectangular buildings, developers today are creating eye-catching building designs. Dubbed starchitecture, this kind of architecture aims to stand out from the herd. An example of this would be the Guggenheim Museum in Bilbao, Spain, which was designed by Frank Gehry.
What has become a crucial factor in building designs today is the use of space in the most efficient way possible. Developers of commercial properties are throwing out conventional principles of articles and taking a more practical approach in designing spaces. This is especially true for urban areas that are already struggling with space, and are moving to vertical infrastructures as opposed to horizontal ones.
Through real estate consolidations or merging multiple office spaces into one, new age companies of today have been able to achieve 40-45% savings in their operational costs as well as gain employee satisfaction, improve logistics and increase the overall profitability of the business. So, not only do they have plenty to gain from it, but they are also willing to make heavy one-time investments to get the best commercial real estate for their office spaces.